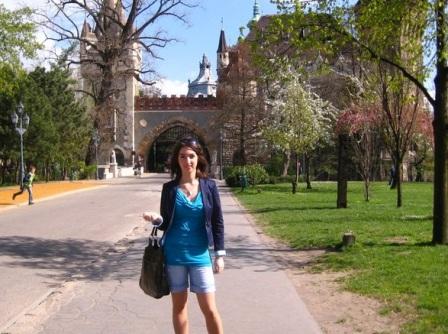 By Alexandra Takacs
Hundreds of students come to Budapest because of the educational exchange programs, but not all of them decide to stay in Hungary and build their own career. They say the reason behind is mainly either the language barrier or the willingness to expand new territories and cultures.
I study in the International Business School, and I met a lot of students who either come here for a semester and return to their hometowns or go for further studies to another country. However, recently I got the news that one of my university mates decided to remain in Hungary; this really got my attention, so I invited her to an interview to hear all of her opinions as well as expectations of a young immigrant regarding her future life in this country.
Her name is Lela Kakhadze and with certainty,I would call her a young perspective immigrant from Georgia, who moved to Budapest more than three years ago thanks to the educational exchange program. Lela always wanted to study abroad and get a foreign education, and as soon as she got informed about exchange program between Grigol Rabakidze University in Georgia and International Business School in Hungary, she took her chances and applied for this incredible opportunity which would define her future. The 'Two+Two' exchange program between these universities imply that Lela and other students will spend two years of their BA degree in Georgia and two years of their studies in Budapest.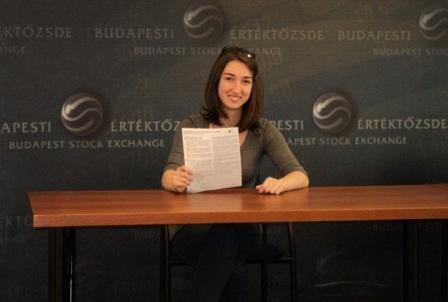 Lela started to prepare for the trip in advance and took into consideration the need of Hungarian language knowledge. 'When I was planning to move here I believed the it is imposible to live here without understanding anyone in the street, that's why I studied the basis  of Hungarian language in Tbilisi'; she smiled and continued 'Yes, in Tbilisi! It was a big challenge to find a teacher of this unique language; we searched for months and finally found a woman who lived in Hungary for 15 years.' Lela came here with a basic knowledge of Hungarian, and at the beginning was not expecting that it will be easy to live here. 'After a short time I understood, that actually a lot of Hungarians both understand and speak English, they are much opened and with interest, listen to my broken Hungarian, and therefore I feel really comfortable in a daily routine.'

Talking about the future, Lela gave an example of one of her life motto - 'If You Want to Make God Laugh, Tell Him Your Plans'. Afterwards when I asked what is she missing in Hungary, she in a second claimed 'I need a Georgian restaurant here!' laughed and added 'who knows may be in the near future I will try to make my dream come true, and Hungarians will be able to taste Georgian cuisine'. She believes that the opportunities she found here in Hungary have a great significance for her future career.
 
I would like to thank Lela for this interview and wish her all the best in her life and career, and of course so she doesn't forget about the promise she gave me – "that I will be among the firsts who will taste the food of her future Georgian restaurant in Budapest".
Even though, the language issue occurred when Lela was applying for the jobs in Budapest this didn't stop her to improve further her language and apply for more jobs. 'At the begging I felt that it was quite hard to accomplish that, having only a basic knowledge level of Hungarian language, but in the end I succeeded to find my place in this country.' Now Lela is working as financial analysts at a well know consulting agency, in an International environment with people from all around the world.